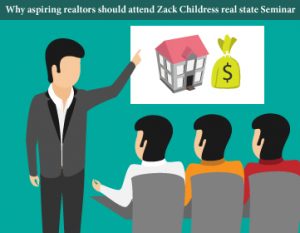 Attending Zack Childress Real Estate seminar is a serious commitment; it is one of the fastest ways to boost your career, and one of the best ways to stay up to date in the fluctuating real estate world. A good seminar can transform your entire life. An all-embracing real estate coaching/seminar can be instrumental to all real estate enthusiasts out there. However, not everyone knows the importance of attending a powerful coaching. As previously mentioned attending a real estate workshop is a serious commitment and depending on the person's experience level, things learnt through the seminar can make a world of difference and simply transform the life of attendees completely. Are you still perplexed and not sure, you want to go for it? Here are some reasons why you should:
Step-by-step approach to automated wholesaling systems
Core strategies for getting ahead and staying ahead of the curve
A clear understanding of the ins and outs of the most commonly used contracts
Conflict devoiding negotiation techniques
Extraordinary and effective training methods will give access and unlock all invaluable resources like links, wholesaling, Reo scripts and much more.
How to evaluate any deal quickly and easily just like the pros.
Major pitfalls to avoid when investing, be it commercial, residential, or industrial real estate
You will learn how to find deals, regardless of your budget; while learning that you will also get to learn about free, cheap, and paid marketing methods
Set up a personalized marketing plan to Buy Houses and put a system in place to hold you accountable for it
Tips for Specific types of properties including Apartments, Self Storage, Mobile Home Parks, Shopping Centers and Office Buildings.
Secrets to building ethical real estate wealth and MUCH, much more!
Legal and contracts (the basics for leases, options, and purchase contracts)
Hope you found this article helpful. For more details on how to succeed as an investor, stay connected to Zack Childress real estate workshop and you are sure to go places. Zack Childress is a real estate entrepreneur who has helped thousands of real estate enthusiasts by teaching real estate principles, markets, and finance. His specialized knowledge of how to succeed as a real estate investor is a boon to aspiring realtors, in his attempt to educate about real estate concepts he has also brought fraudulent real estate scam activities to light! His boot camps and seminars are a blessing to people who wanted to make it big in the field of real estate. Sign up for Zack Childress real estate reviews to stay up to date on real estate concepts and make secure investments with the guidance of this connoisseur who will guide you every step of the way.